[ad_1]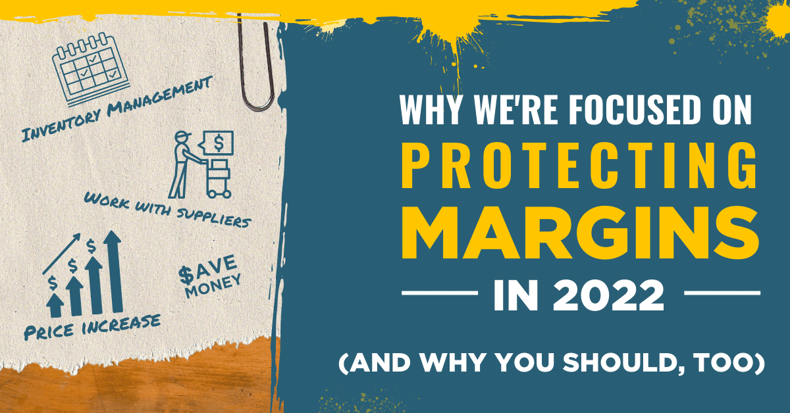 It's been two years since Covid shut the economy down. And nothing has been the same since. What's crazy is how things continue to change on what seems like a daily basis. Variances are the name of the game.
We were already dealing with supply chain delays and the constant upward pressure of inflation caused by the shortages of parts and people in the marketplace. The price of freight is skyrocketing—and that was all before the war in Ukraine erupted. Suddenly, we need to add in the additional upward pressure on the price of oil and commodities like wheat—did you know Russia is the world's largest producer of wheat and Ukraine is fifth? There are also precious metals like nickel, which is a big Russian export. Nickel is used to make everything from stainless steel to appliances and batteries, which are rising in price because of the shortages. Now mix in the fact that interest rates will be rising for the first time since 2018, and every business is faced with solving a dynamic puzzle with lots of moving pieces.
<< See how a coach can help you with long-term and contingency planning. >>
That's especially true for us as a manufacturer of vehicle components. We've always said that our business tracks in line with how the nation's gross domestic product rises or falls. We are the GDP. Based on our forecasts, we believe 2022 will be a much tamer year than the record growth we saw in 2021. Our order board looks solid, at least through 2024, but as we've said before, we get nervous playing with a lead. There's always another shoe to drop.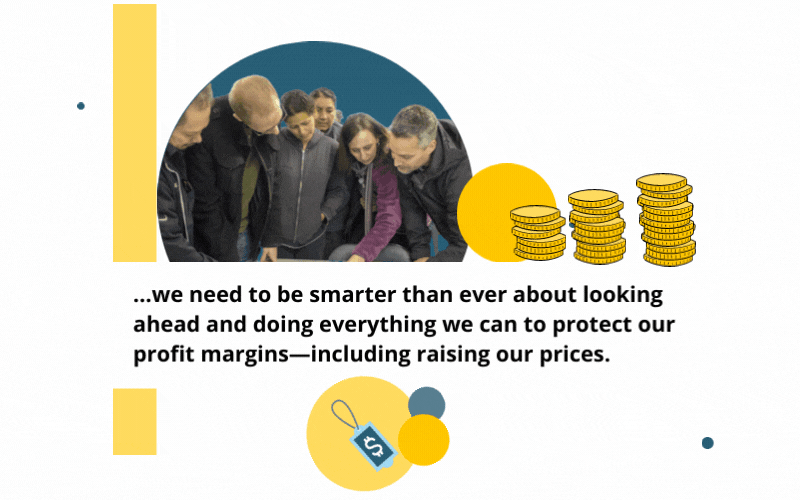 So, we need to be smarter than ever about looking ahead and doing everything we can to protect our profit margins—including raising our prices. We need to do this for the simple reason that we're trying to sustain the standard of living of our associates. If we want to pay our people more to protect them from inflation, we need to ensure we can support that financially. To do that, we're counting on them, our business of businesspeople, more than ever.
<<Jack wants to know your thoughts! Leave a comment at the bottom of this page, and Jack Stack and Darren Dahl will comment back and/or answer any questions you might have. >>
The Challenge of Increasing Prices
One of the hardest things you can do in business is increase your prices. If you've ever done it, you know what we're talking about. It's the most uncomfortable discussion you can ever have with a customer—especially one you may have been working with for years. Nobody likes paying more for something if they can get it for less, right?
But with the kind of inflationary pressures we're all dealing with right now, you can't afford not to raise your prices. This is the furthest thing from profiteering or trying to gouge customers. It's just math. Our costs of doing business are going up, and we need to adjust to that. Otherwise, we'll find that we're working for free—or worse.
So how do you go about having those tough conversations with customers about prices in a way where they don't think you're trying to take advantage of them? Well, good luck if you haven't already built up a level of trust beforehand. If you don't have your customer's trust on your balance sheet, you're gonna be up a creek without a paddle.
What we're seeing in the marketplace right now is that more and more companies are shifting their business away from low-cost suppliers to companies that have a strong reputation for integrity. Rather than simply choosing a vendor who quotes you the lowest price, companies want to protect themselves by working with partners who do what they say they're going to do. And that's where our people become our critical advantage in the marketplace.
What we know from years of giving tours of our facilities to potential customers is that our people sell for us. Even the most skeptical of visitors get blown away by how well our associates know their business. When they hear associates quoting margins or using phrases like "this is how we invest our money," visitors can hardly believe their ears. You can almost see their heads explode when they hear frontline associates talking like that.
And we don't hide anything or anyone—visitors can talk to anyone on the factory floors (while paying attention to safety rules) and ask them anything they want. Heck, when someone asks, we'll even share our income statement with our customers to show them the kind of margins we make. That goes a long way toward building a trusting relationship—and letting them know we're not trying to gouge them. As a result, when it comes time to talk about why we need to raise prices, our customers believe us. But that sense of trust is also a two-way street. Because if we don't understand our customer's business and whether they can absorb a price hike or not, we could lose the battle before it's even begun.
The Magic of Long-term Planning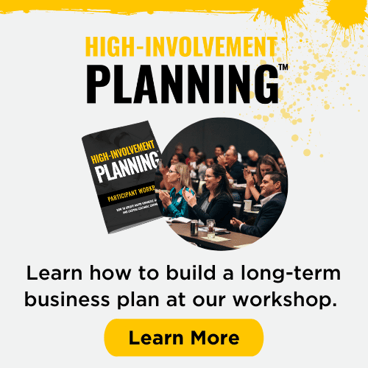 We believe the best way to build a sustainable business—one that other companies seek out and want to work with today and in the future—is by constantly teaching our associates how their business works.
People often ask us how come we're so good at thinking strategically and, as they say, "looking around corners." It's not magic. It's a daily discipline. We can't afford to simply rely on our executive team to keep on top of prices in the commodities market or how the price of freight is skyrocketing. We also can't think top-down when it comes to managing our inventories or understanding when it's time to add new space or a new plant. And understanding how our customers' businesses work is also part of every associate's job description. That's a joint responsibility among all of our associates to think and act like an owner of our business. That's how we can stay on top of all these changes that are happening now and in the future. We need our people to be looking out, five and ten years out, to see how we can adapt to these changes and get ahead of them.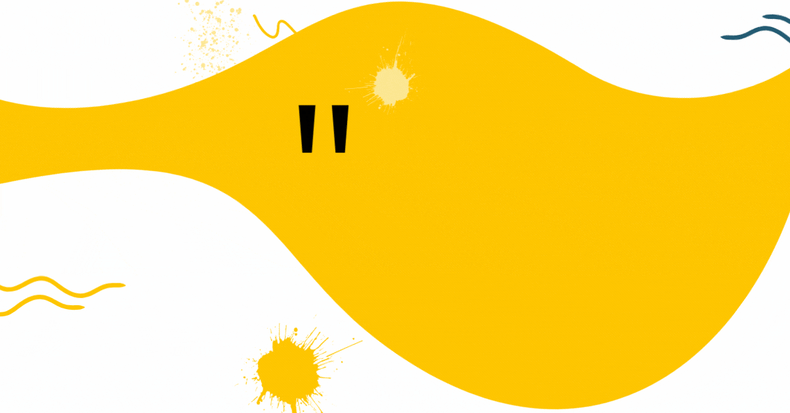 This is why we set long-term goals to aim at together. That's how we can become stronger as an organization. Yes, there will always be unforeseen roadblocks to overcome—like a potential Covid resurgence, continued inflation, and a war in Europe—but that's why you build contingency plans to help keep you marching on toward your objectives. The whole idea of planning ahead is to anticipate what could go wrong and do something about it ahead of time. That way, you can try and make yourself as strong as you possibly can by diversifying your business to give yourself a fighting chance to outrun even the worst of the storms coming our way.
But we can only pull off these long-term strategies if our associates truly understand our business and why making these moves is critical to our survival. 
Jack wants to know your thoughts! Leave a comment at the bottom of this page, and Jack Stack and Darren Dahl will comment back and/or answer any questions you might have. 
If You Liked This Blog Post You May Also Enjoy This Podcast
Jackie Greene from ITR economics discusses how to be better prepared, so you are not caught off guard. Why you should lose the losers and the difference between disinflation and deflation. 
---
Are you ready to start engaging your employees in your business? Learn how to get your entire organization working towards the same goals at our next workshop!

---
Other articles you might like: 


[ad_2]

Source link